The label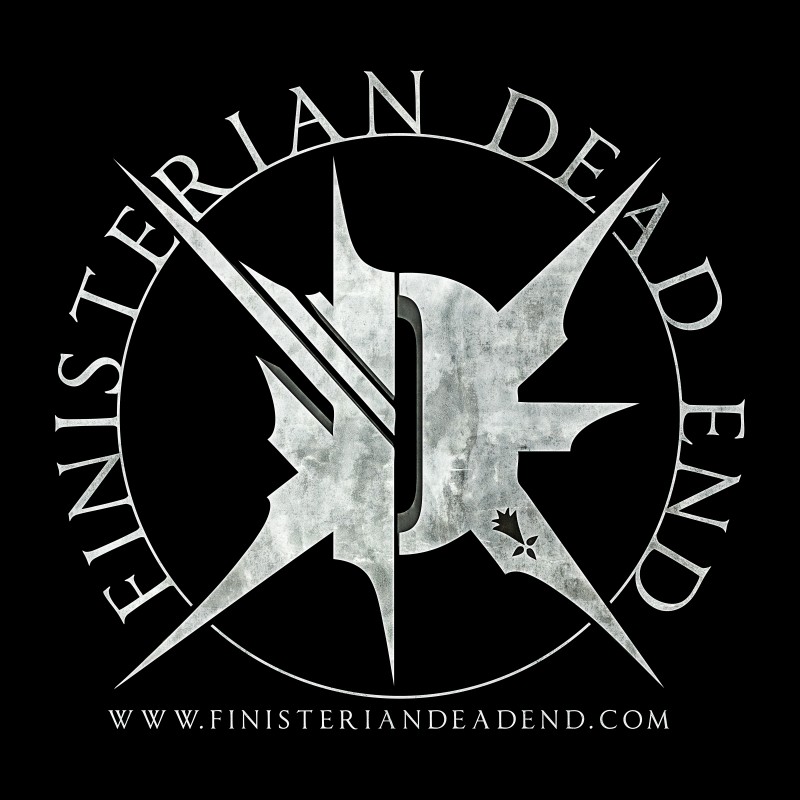 The idea of this crazy, ambitious but realistic project began in June 2011 as I returned from HELLFEST: to create a label to promote local metal beyond regional boundaries while providing logistical support, artistic eye and passion for local bands.
Finisterian Dead End label is primarily a global concept, a simple but effective guideline where exchange, transparency and the will to excel help, to break the stereotypes of music distribution and will be in no doubt a new player with which one will now have to count.
Its aim: to advise, guide bands on pressing, promotion, funding for their projects, have an outside artistic eye on them, manage a distribution album, and by all means find solutions for each profile.
Utopia is certainly never far away, but no major project without passion! The leitmotiv of Finisterian Dead End: always let the artist free of their movements because they will never be a product!
Our commitment: stay close to the artists, always be at the center of what is and will always remain their project and to never forget that the primary purpose of this is to bring to life this art that binds us, brings us joy and helps us to advance…
The label celebrates his fifth birthday in 2016 and the progress already amazing:
A 20's Talented band's Roster

Hundred

 of 

shows in France

and abroad

Openings

for the greatests

:Belphegor, Septic Flesh, Pennywise, Agnostic Front, Rotting Christ, 

Loudblast

,

Lofofora

,

Anaal Nathrakh

, Avatarium,

Djerv

,

Mass Hysteria

, Klone, Agressor,

Svart Crown

,

Gojira

,

Benighted

,

Ensiferum

,

Punish Yourself

, Suicide

Silence ,Crusher, Dagoba, Trepalium,No Return, Mercyless, Gorod, Bukowski, S.U.P, Otargos, Misanthrope, The Arrs , S.U.P, Aeon Sable, Perturbator etc…

Participations

in numerous fests

(

Brutal

Winter

Fest

Cuba

-Bagheera-

;

Metalcorner

Hellfest

2013

-Pictured- Ellipse-War Inside

;

Greenfield

Festival

-Bagheera-

Switzerland

;

Motocultor

-Malkavian-

2012

;

Hellfest

2014

Metalcorner

-Breakdust-

 ; Hellfest 2015 Metalcorner -Malkavian-

and

 Official Programming Mainstage 2 

Hellfest

2015

-Breakdust- Hellfest 2017 Metalcorner -Mantra- Xtreme Fest 2017 -Stinky-)

, Samain Fest, Muscadeath , Nantes Metal Fest , Dark Vibes, Mennecy Metal Fest

Partnerships

with

radios

in France, the USA

, Germany, Belgium

, England,

Denmark, the Netherlands

, Argentina, Peru

, Chile and Colombia

Communications and

publications

in national magazines

(

Metallian

, Hard Rock

Magazine,

Rock Hard

Magazine,

Obsküre

Magazine)

and

International (Legacy, Metal Hammer, Terrorizer…)

Several hundred

reviews in

France

and abroad

Partnerships with

w

ebzines

in France

and abroad

More and

more

partnerships

for the organization

/

promotion of live shows


Creation

in

2013

of the

Dead End

Fest,

concert dedicated

to bands

of

our roster


From 2015

,

a

national distribution

provided by

Season Of Mist

Distribution for France and Code 7 Distribution for Great Britain

A Worldwide Digital Distribution Through more than 250 Platforms
https://www.finisteriandeadend.com

new

website

in January 2015
Finally, you will understand Finisterian Dead End Label is primarily a story of passionate people, a label for metalheads by metalheads. Far from the clichés and business that prevails in the music industry, art is always an end, the profit an indispensable means, but not the other way around.
WELCOME TO THE DEAD END FAMILY !!
Laurent,
Finisterian Dead End Label Manager
Interviews:
Versus Magazine (Port) 02/05/2017 : https://www.facebook.com/notes/versus-magazine-official/finisterian-dead-end-uma-fam%C3%ADlia-ecl%C3%A9tica/1306344572735785/
R2R (Hellfest 2016 Interview) : https://soundcloud.com/radio-r2r/interview-hellfest-2016-finisterian-dead-end?utm_source=soundcloud&utm_campaign=share&utm_medium=twitter
Among the Living.fr : http://amongtheliving.fr/interview-de-laurent-manager-du-label-finisterian-dead-end/
Webzine BoosteLeSon.com : http://www.boosteleson.com/interviews/le-label-f-d-e/
Vacarm.net : http://www.vacarm.net/un-label-made-in-breizh-mais-pas-que/
Replica Promotion (Trailer) : https://www.youtube.com/watch?v=XLtYzbYhcFE
RockNLive Prod : https://www.youtube.com/watch?v=wEmz3ThihMU
R2R.fr (Radio Podcast) : http://asso-r2r.fr/interview-finisterian-dead-end-label-breton/
Musicwaves.fr : http://www.musicwaves.fr/frmArticle.aspx?ID=1124&REF=FINISTERIAN-DEAD-END-02-AVRIL-15
Ouest France 22 Septembre 2015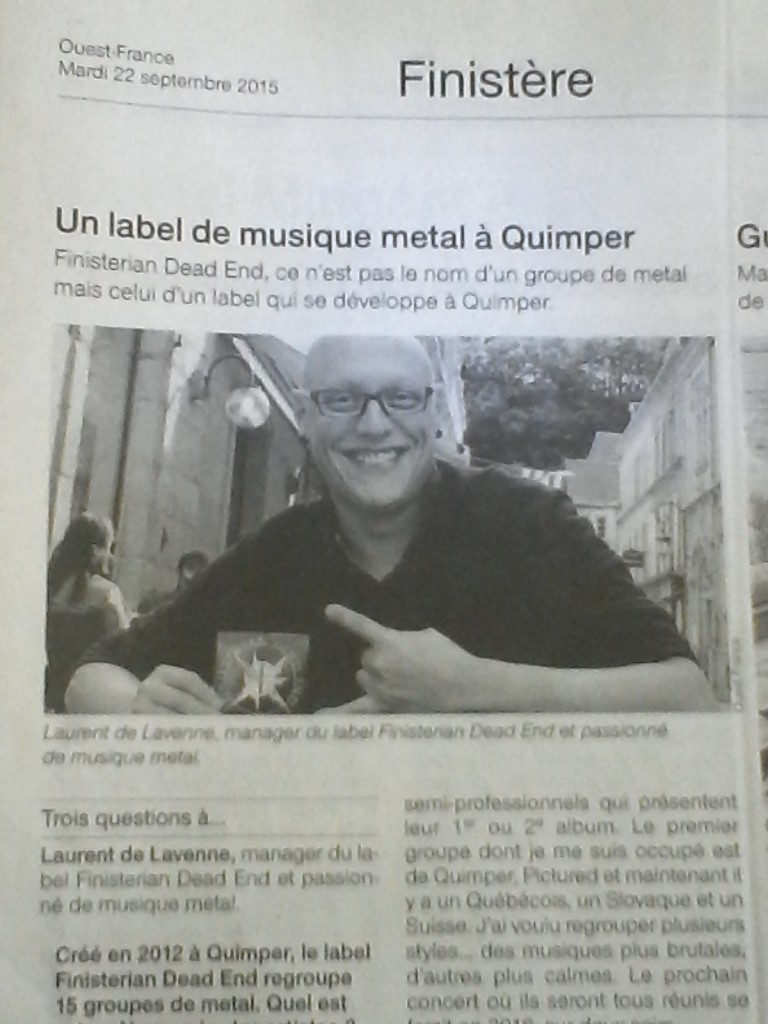 Côté Quimper 01/10/2015
http://www.cotequimper.fr/2015/10/01/metal-son-label-finisterian-dead-end-poursuit-son-ascension/
Télégramme Brest 02/10/2015 
http://www.letelegramme.fr/finistere/brest/musique-un-label-de-metal-finisterien-02-10-2015-10796329.php
Télégramme Quimper 12/11/2015
http://www.letelegramme.fr/finistere/quimper/metal-un-label-qui-fait-du-bruit-12-11-2015-10846690.php
Soilchronicles
Rage Breizh 15/12/2015
http://rage-breizh.fr/index.php/2015-09-23-15-45-03/news-infos/entrevue-laurent-manager-du-label-finisterian-dead-end#.VnGXQJeujbw.facebook
R2R Radio Campus Rouen 12/02/2016
Webzine "Furieux" 16/03/2016